When Pastor Scott Arnold of Journey Church in Jupiter Farms, Florida, was a boy in Southern Ohio, he played sports. His stepfather coached him in baseball and basketball.
When he was just 22, at a worship service in Lakeland, Florida, a woman approached him. She told him that many young people would get saved from the way God would work through his life. Today, Pastor Scott, husband for 21 years to his precious late wife Nicole, and father to beautiful and talented Kaitlyn (20), Olivia (17), and Alexis (10), heads up the non-profit Team Sports Ministries.
Team Sports Ministries is a seed ministry that plants the Word of God in young athletes, primarily high school football players. Bible Study 'Coach', Scott Arnold, mentors student athletes in Palm Beach County on and off the field. The mission is for the student athletes to learn strong principles, live by them and impact their life and the community around them.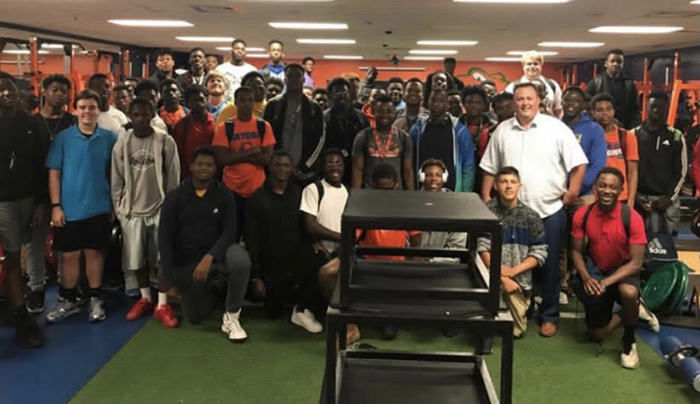 Using both the old and new testament, Scott acts as the Bible Study 'Coach', and for years has held meetings before school on Tuesdays and Thursdays at 7 a.m. for the players. Complete with breakfast sponsored by Chick-fil-A on Northlake Blvd in Lake Park (owner Neil Hannon), Scott shares scripture and real life principles to provide a spiritual foundation for the athletes. The players gather at their high school to hear the Word, pray and reflect, giving them a strong spiritual foundation before they start their school day.
And we know that in all things God works for the good of those who love him, who have been called according to his purpose. Romans 8:28
Team Ministries holds the meetings at Dwyer High School and Palm Beach Gardens High School currently. Benjamin High and Jupiter High have also been on the schedule. Scott collaborates with coaches in the area, such as the legendary Tim Tharp (Jupiter High), Chris Davis (PBGH) and Jack Daniels (formerly with Dwyer, currently with Cardinal Newman High).
In 2012, Scott approached Head Coach Jack Daniels, then with Dwyer High, about the players using a practice to give back to the community. Coach Daniels was all for it, and every Thursday for 2 years, the players would go to the Boys and Girls Club to provide mentoring and football skills training for the children.
As the dreams of the players spanned beyond high school, Scott has supported them. For many years he chartered a bus, gathering the passionate young athletes on board, to attend the Miami Dolphins games.
Trust in the Lord with all your heart and lean not on your own understanding. In all your ways submit to him, and he will make your paths straight. Proverbs 3:5-6
God led Scott to start Team Sport ministries 10 years ago, and today it is thriving. His late wife, Nicole, has always been a major part of the heart of the ministry, and "she still is", he says.
Pastor Scott, a likeable, people person has influenced thousands of young men and women here in Palm Beach County providing spiritual support and holistic mentorship beyond.
It's not unusual for Scott to pick a player who is experienced in the Word and life lessons to share the message. This gives them public speaking practice, and allows the peers to connect on a personal level. Some of the athletes have never heard the Gospel and others thrive on the regular spiritual support that the consistent gathering provides. Pastor Scott says, "it's really a blessing to be able to pour into (their) lives".
Pastor Scott is always offering a kind word for everyone. Players, Journey church members, and even the staff at Southern Kitchen in Lake Park, where he frequently gathers to meet with players and friends, have all been the recipient of his encouraging, friendly spirit. Pastor Scott's spirit surrounds the community with love.
---
Is there any encouragement from belonging to Christ? Any comfort from his love? Any fellowship together in the Spirit? Are your hearts tender and compassionate? 2 Then make me truly happy by agreeing wholeheartedly with each other, loving one another, and working together with one mind and purpose.
Don't be selfish; don't try to impress others. Be humble, thinking of others as better than yourselves. Don't look out only for your own interests, but take an interest in others, too.
You must have the same attitude that Christ Jesus had. Philippians 2:1-5
---
Pastor Scott's former ministry posts include Church in the Gardens in Palm Beach Gardens, Florida and he attended Warner Bible College in North Carolina. He was born in southern Ohio.
In response to the process he's been through with losing his beautiful wife two years ago, Scott offers "for anyone who has lost a spouse, God is with you. Go through the process of lamenting and grieving for God to bring you complete healing." Scott has been going through this process himself, with support and leaning on God. "The greatest honor of my life has been raising my three girls", he says when asked about what provides him fulfillment.
Scott Arnold continues to pursue God as he heads up Team Sports Ministries, pastors Journey Church in Jupiter, and loves his girls. If you'd like to get to know Pastor Scott up close and personal or visit Journey Church or for more information about Scott's life transforming programs with Team Sports Ministries, please go to: Teamsportsministries.org
Article first appeared in Palm Beach Christian Voice.